My name is Tom Figgatt; I'm the founder, President, and only employee of Portolan Financial (that means I can add other job titles to my name if I feel like it). I am a Certified Financial Planner™, have an MBA plus a Masters in Financial Planning, and am an Enrolled Agent (EA) with the IRS.
Bio
I enjoy traveling with my wife and young daughter, cooking good food, drinking dark beer, and watching football and soccer. I also am a bit of a nerd (Excel is a wonderful, wonderful thing), hate it when my desk gets messy, and like reading – especially history.
After graduating from Duke University with a BS in Economics, I served in the United States Marine Corps for seven years as a Tank Officer. This gave me the opportunity to lead amazing young Marines, set them up for success, and watch them grow and develop as we moved from training to deployments in Afghanistan. I was also able to spend time at the University of South Carolina, where I worked with college students who wanted to serve in the Navy and Marine Corps, and also got my MBA. Afterwards, I left the Marines and worked for Bank of America in Charlotte, North Carolina. After two years in Charlotte, I moved to New Orleans with my wife for her Internal Medicine residency. After four years in New Orleans and the addition of our daughter Claire, we moved to Durham, North Carolina. I used the move to New Orleans as an opportunity to evaluate what I wanted as a long-term career. I've always had an interest in economics, finance and analysis, and I've gotten a lot of fulfillment and enjoyment from working with people, getting to know them, and watching them succeed. Starting my own financial planning firm gave me the opportunity to develop relationships with people, help them with their finances, and do it all on my own terms since family time is very important to me. I want to build relationships with the people I work with. I'm in this for the long haul – I want to watch you and your family grow and achieve your goals.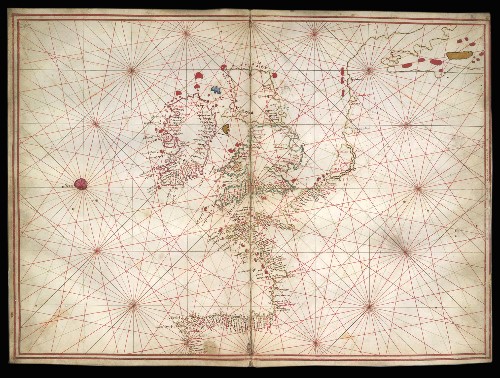 So, What's a Portolan?
Good question. Portolan charts are navigational aids that date to the 1300s, and are a collection of rhumb lines that enabled navigators to determine a straight-line route between two ports. I love history and old maps, and I was inspired by the parallel between financial planning and these old charts. In both cases, you figure out where you are and where you want to go, then chart a course to get there. But since the charts don't tell us what kinds of problems we'll run into along the way, we'll have to adjust course and navigate unexpected challenges together – exactly how we'll work together to create a financial plan and then adapt it as the years go by.
I wanted to put this on the front page of the site, but my wife's better judgement prevailed, and it's here so that my nerdiness doesn't scare people away right out of the gate.
If you want to learn more about these charts, explore collections that the libraries at Yale and the University of Minnesota have, and there are plenty of other examples you can check out.